Lagos, Nigeria 2021
In a bid to animate the dead, we find all the while they were living.
Found objects: Tree stump, Papaya, Palm seedlings
Lagos, Nigeria 2020
This is an exploration into the intergenerational cries for sustain rural and urban electrification in Nigeria. Each hand symbolised the generations before leading to present begging and asking to for light.
Found objects: Aluminium wires 
Lagos, Nigeria 2020
Within this sculpture I wanted to explore food insecurity and access to quality indigenous products, yet we see in Africa a steady augmentation of our diets. Hence the term 'for a rainy day', we see increasing food prices, which manifests itself by everyday being a rainy day for some.
Found objects: anchor & rope, black bag, heavy duty cable ties
Lagos, Nigeria 2020
AN ABSTRACT UMAGINATION OF THE PAST IN THE PUTURE PRESENT!
Found objects: brake pads, nuts, hinges, copper
Lagos, Nigeria 2020
Exploring the at times violent and restrictive nature of relations between man and woman.
Found objects: Styrofoam, Metal Iron, Metal Gate, Red lid, Exhaust pipe, Copper wires.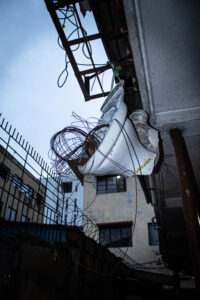 Lagos, Nigeria 2020
This art work speaks to the degradation of planet earth, given the ecological crisis we are in, truly if things don't change we will be in . . . . . This is symbolised by the spherical earth and surrounding galaxies being flushed down the toilet.
Found object: Toilet, Rope, Metal
2 heads are better than n(one)
Lagos, Nigeria 2020
This art piece speaks to the brain drain that has persisted in Africa as more and more skilled workers are recruited by western state to work e.g Nurses, Doctors, Engineers. This leaves a gap in the local community of these necessary skilled workers.
Found object: Spark plugs, Blue hard hat helmets, Light bulb, Metal ring, Copper wires, Aluminium wires.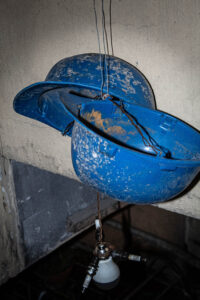 Lagos, Nigeria 2020
In coming together we are forced to reckon with the violences from the past, present and future. We imagine, objectify and deny.
Found objects: Metal watch strap, Nut bolts, Door latch, Copper wire, Various metals.